Recalls, recalls and more recalls
The safety of our food supply is achieved through the commitment of food manufacturers to produce safe and suitable foods, under the supervision of regulatory agencies.
Occasionally food that may pose a health or safety risk to consumers enters the marketplace, and it becomes necessary to remove that product from distribution and sale through a recall from, distributors (wholesalers), stores, and the kitchens of consumers.
The following graph shows recalls over the past 10 years in Australia.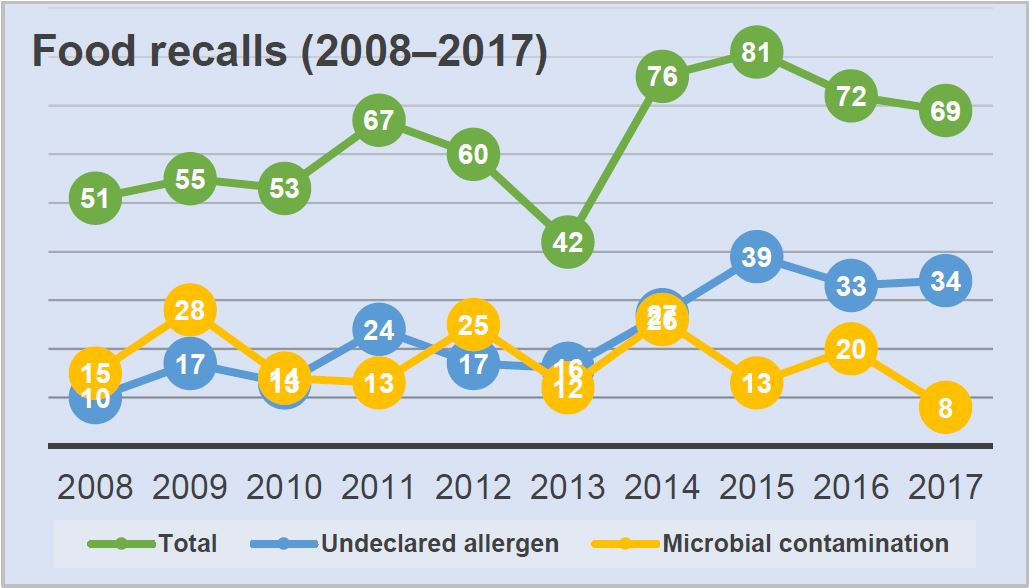 Source: Food Standards Australia New Zealand (FSANZ)
The principal reasons for recalls are microbiological contamination or the presence of undeclared allergens. Other causes include the presence of foreign matter and chemical contamination.
In recent months we have seen major recalls associated with the presence of Listeria monocytogenes in rockmelons and frozen vegetables, and Hepatitis A in pomegranate arils. Recalls due to the presence of undeclared allergens have occurred with disturbing frequency in recent years, and have the potential to cause serious adverse health effects.
While a recall demonstrates our food regulatory system is working, it can have a major impact on a food manufacturer's reputation, consumer confidence, and result in significant costs. Getting food safety right, first time, should be the goal. But when mistakes occur, it is the manufacturer's duty to remove product from the market quickly and before harm occurs.
All dairy manufacturers must have a recall plan in place. As a guide, FSANZ has developed the Food industry recall protocol. It provides information on recalling food in Australia and guidance for food businesses on developing a written food recall plan.
The documentation and implementation of an effective food safety program, including a food recall plan, is an essential feature of a manufacturer's approach to ensuring food safety and delivering safe food to consumers.