Managing allergens in dairy manufacturing
Dairy manufacturers have a responsibility to manage allergens in their products so that consumers with food allergies are
protected.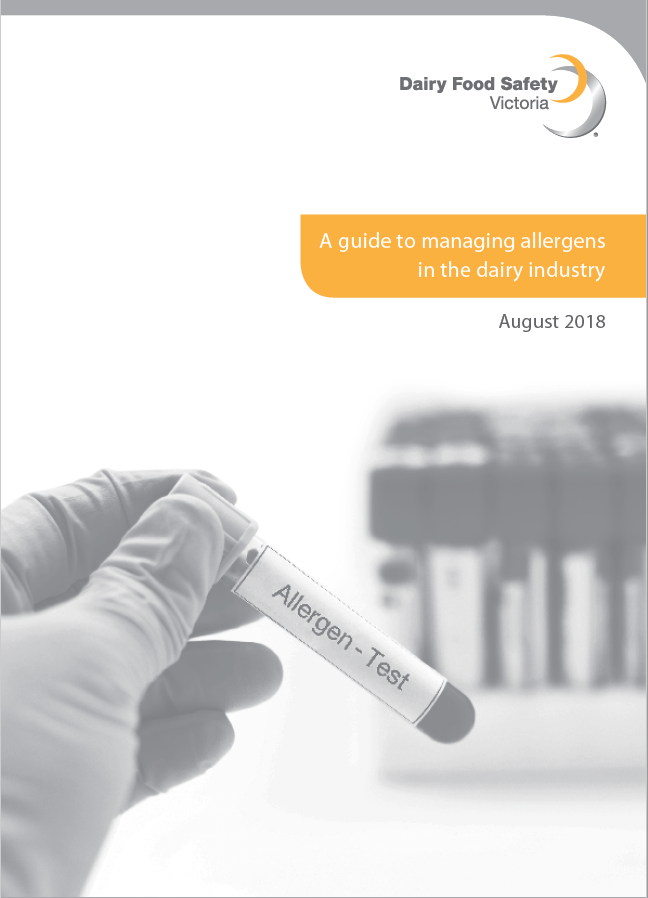 A guide to managing allergens in the dairy industry is the latest in DFSV's suite of guidelines aimed at supporting dairy licence holders to produce safe food.
Food allergy currently has no cure, so the only choice is for affected consumers to avoid foods containing substances to which they are allergic. Therefore, they rely on being able to clearly identify products which contain allergens.
Standard 1.2.3 – Information requirements – warning statements, advisory statements and declarations of the Australia
New Zealand Food Standards Code mandates that the presence of certain substances in a food must be declared on the label. Compliance with the standard will be assessed by DFSV food safety managers at audit.
Failure to adequately control the presence of allergens in dairy food or to correctly label products can present a serious
risk to public health, and lead to expensive food recalls.
Food manufacturers need to ensure products do not inadvertently contain allergenic ingredients and are correctly labelled. Food allergens must be controlled through every stage of food manufacture and a documented allergen management plan should form an integral part of a food safety program.
This document provides guidance on developing an allergen management plan and managing allergens in a dairy manufacturing business, from receival of ingredients to labelling and packaging of final product.
As a minimum, DFSV requires manufacturers to demonstrate that they address the points raised in this guideline and can
present records to demonstrate the effectiveness of allergen control measures.